PROJECT: MARYVILLE HOUSE, MANISTER, CO. LIMERICK
Project Type: Residential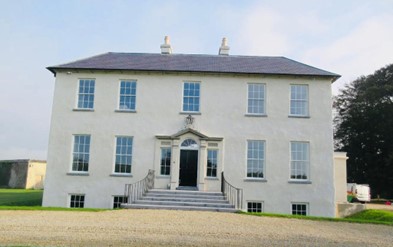 The works included specialist chemical treatment works for wet/dry rot, replacing timber heads with concrete lintels above all opes, reduced level dig and laying a new concrete floor in the basement, re-lining the basement walls with platon membrane, hacking off and re-plastering all of the existing internal and external walls with lime render, decorative plaster repair works, restoration of the existing timber windows and internal/external doors, the existing original main staircase was protected and restored.
The existing timber joists and roof timbers were replaced or re-used where possible, the roof was stripped and re-slated using salvaged/existing slates including replacing all lead linings, re-rendering the existing chimney stacks, full electrical and mechanical services installations including stripping out of redundant services, installation of new cast iron rainwater goods, installation of a perforated perimeter French drain, hard and soft landscaping, planting and all associated external works.
Arrange a consultation today and find out how we can best help you to successfully realise your project.