PROJECT: CAHIR PRIMARY CARE CENTRE, CAHIR, CO. TIPPERARY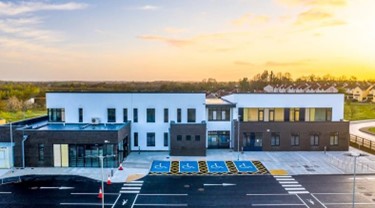 Construction of a new 20,000sqft 2-storey HSE Primary Care Centre facility on a greenfield site to provide a pharmacy, GP consultation rooms, healthcare offices, dental suite, physiotherapy suite, clinical nursing rooms, paediatric suite, speech and therapy suite, occupational therapy suite, reception area, waiting areas, patient/visitor toilet and changing facilities, staff changing rooms, staff canteen, plant room and comms room.
External works included the provision of 72 car parking spaces, accessible car parking, set-down area for emergency vehicles, access road, boundary treatments, electrical supply substation, a standalone waste disposal storage compound in a single-storey building, underground site services, hard and soft landscaping and all associated siteworks.
Arrange a consultation today and find out how we can best help you to successfully realise your project.